Costumes news, cosplay happenings, exclusive updates on custom costume designs and costume industry events. Click here for blog archives.
Friday, November 12, 2010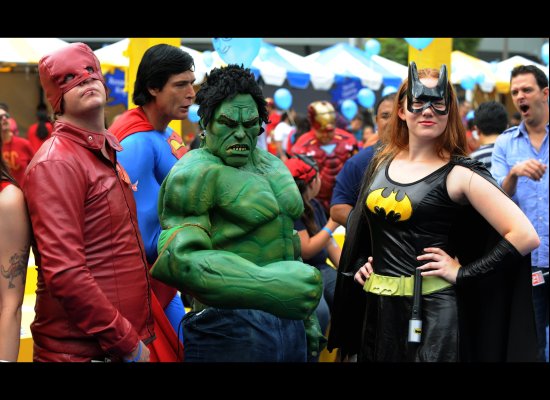 On Saturday, October 2, DreamWorks Animation hosted a Mega-event to promote and celebrate the November 5 release of Megamind starring the voices of Will Ferrell and Brad Pitt. Their goal was to beat the current Guinness World Records title for Largest Gathering of Superheroes.

With a magic number of 1,500 to aim for, Will Ferrell and 1,580 of his closest costumed superhero friends united and made heroic history as they smashed the record to smithereens.
"We just broke the record for the biggest gathering of super heroes to kick off Megamonth. If everyone would just stay in their costumes for all of October, we could break another one," said Ferrell on Saturday, after breaking the Guinness World Record. Congrats to Ferrell and his crew of record breaking cronies.
Artist Direct reports, "The attempt commenced promptly at 10:00 AM as superheroes swooped into L.A. LIVE in downtown Los Angeles. To qualify for the record attempt, participants had to arrive dressed as an easily recognizable superhero that has appeared in a published book, comic, television program or film, as stipulated by the record guidelines. A minimum of 1,501 superheroes were needed to break the previous world record."
You can see photos at Huffington Post to see the array of both adult superheroes and small kid superheroes that showed up. To name a few, we spotted:
· Many sightings of Wonder Woman
· Popeye
· Power Rangers
· Characters from V for Vendetta and the Watchmen
· The Flash
You can catch some video too, on the Hero Complex from the L.A. Times or on a clip of Attack of the Show from the G4 cable channel for gamers.